Why I'm Wearing a "Beeper" at Barrys.
This is a second part follow up to last week's deep dive into why my instagram stories have featured a lot of medical equipment and visits these last few weeks. (And also life without coffee.)
In that last post, we left off that I scheduled an appointment with Mt. Sinai cardiologist Dr. Raschko. It started like any appointment. Medication? No. Allergies? None. Ever had surgery? No. When did you start truly "running"? College. Family history? Nothing too out of the ordinary. My dad had a-fibulation, cancer on my great grandparents' side, otherwise we are generally healthy... making this whole thing more complex.
Long story very short, he prescribed me a series of tests including a 24 hour Holter heart monitor; an echocardiogram and a stress test. All to be done over the next week - 2 weeks. (Also note: all to be done while mercury is peak retrograding).
The heart monitor was up first. Knowing I wouldn't be able to shower with it but that the doc wanted me to work out and follow my routine, unchanged, I was slated to pick it up late morning on a Tuesday. I planned a spin class for after work since I don't get as sweaty as I do when I run or go to Barrys; and also because you're pretty stationary and it's dark. Cyborg embarrassment curbed.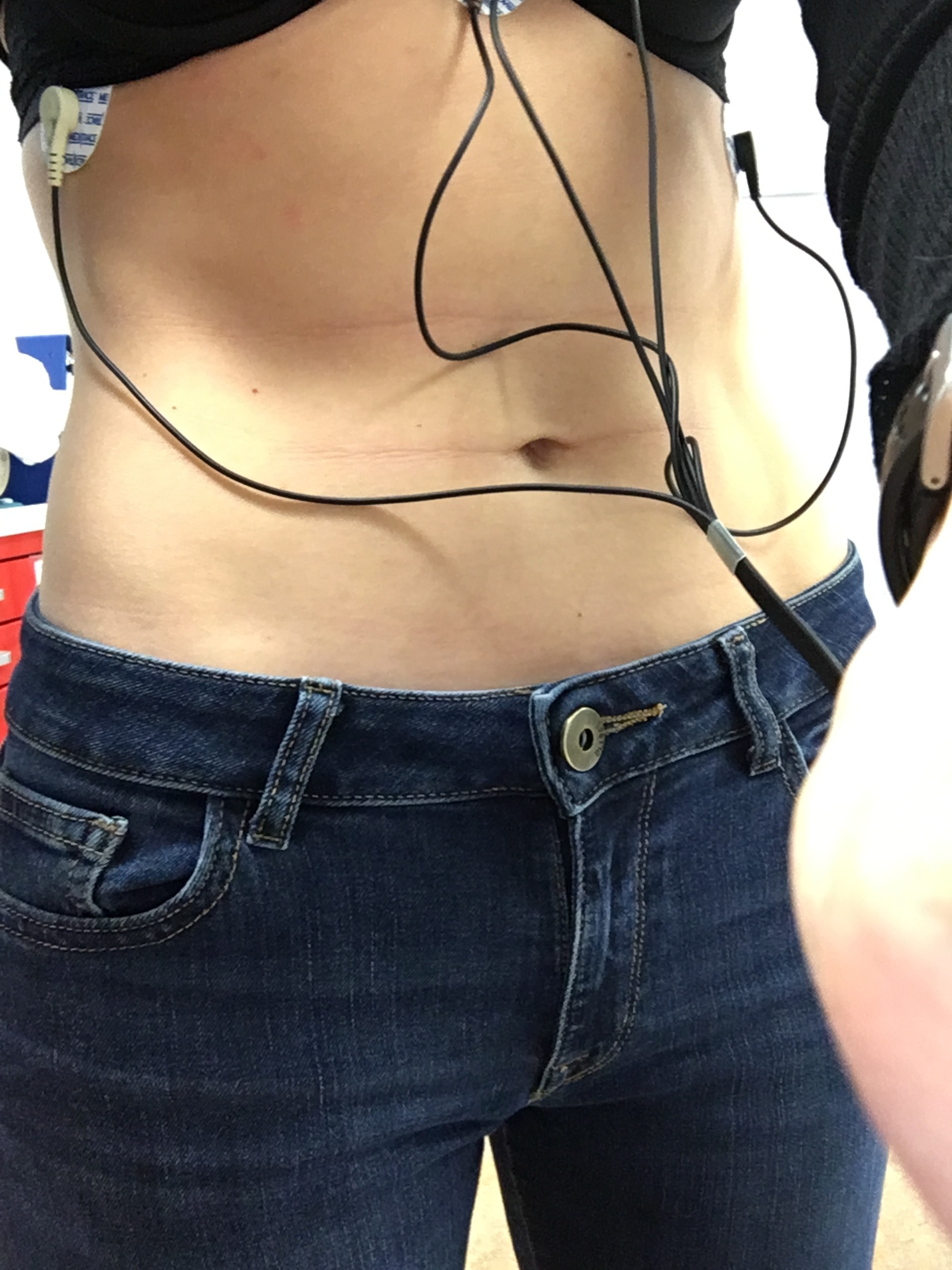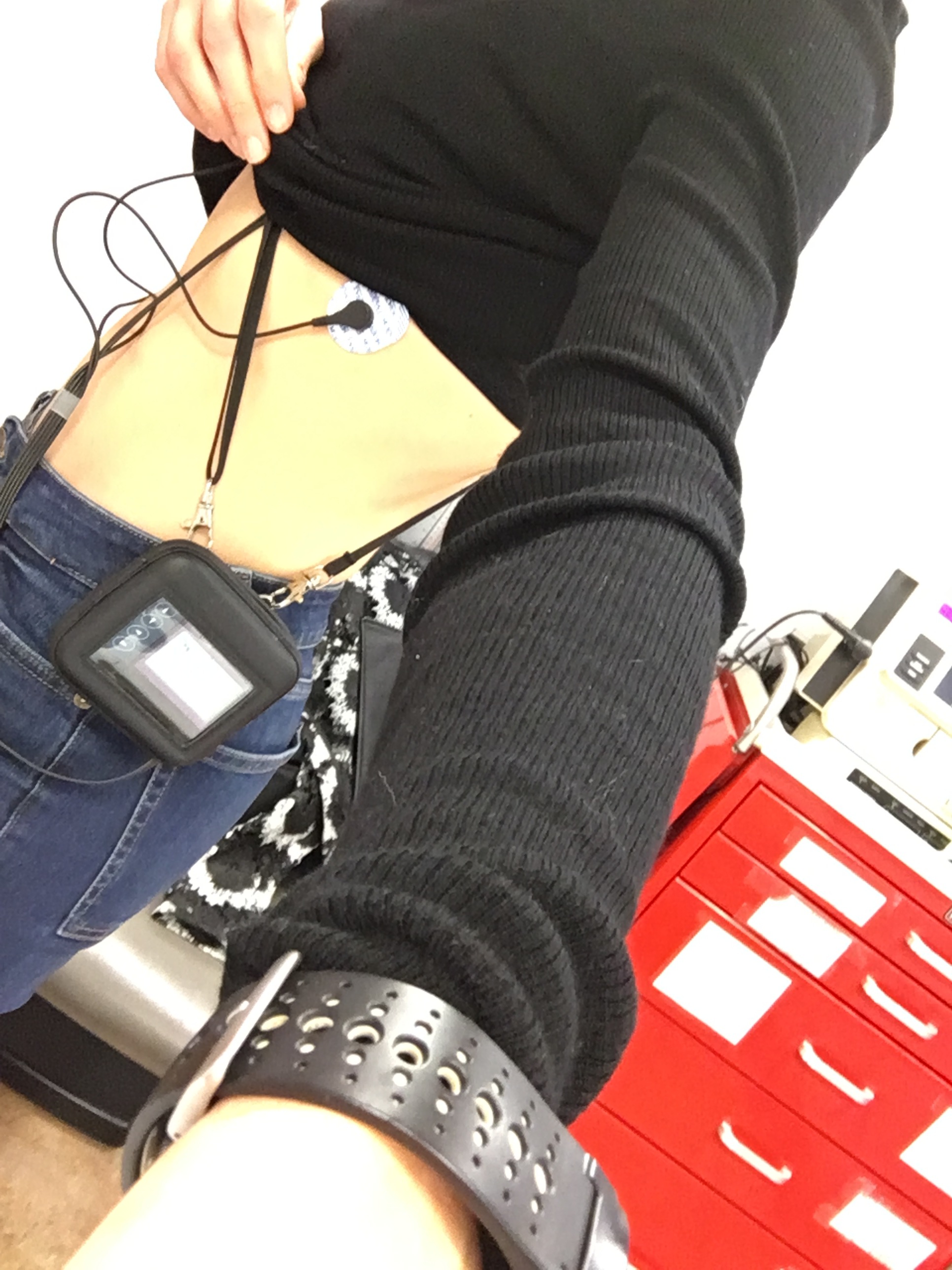 The nurse attached all the electrodes to my chest and slung the pager-like device (which the electrodes feed information into) across my body underneath my blouse. She used medical adhesive to ensure it would stay in place during my spin class. the device shows the time of day and how many hours remain until the monitor turns off. I was given a diary log to record any symptoms similar to the first day i experiences them. The doctor wanted me to drink wine that night, eat out, and drink coffee the next day - do all the things i had done that could possibly have caused the palpitations.
A few hours later at the office I looked down and noticed the screen was blank. Maybe it's asleep? I called the doc, spent 30 minutes trying to speak to someone who could tell whether this was normal or if I needed to start it all over again until someone finally confirmed indeed it must have died or glitched and i'd need to come back the next day, but that i should plan to come in the afternoon so it's less busy and i won't need to wait.
mercury - 1; sam - 0
i ended up missing my spin class (on the phone too long, took an express downtown train instead of a local) but resolved to not let the day end on a low note. I'd go run my favorite place in NYC: the reservoir, monitor and phone free. Completely unplugged.
I ran a solid and fast 5 Miles, hit a ton of PRs on the route, and finished well before 7pm (bus wasn't until 7:40). Here's a picture of the reservoir from my run the week prior. Total zen!
I grabbed a pre-made juice at Juice Generation (my favorite spot); and went down to the train platform. Since i am so programmed to go "north" one stop to port authority and since both express and local trains going north stop at port authority, i jumped on the first train that was at the platform, an A.
Except I was already north. I was at Columbus circle. And A trains are express. And after 5 minutes of still being on a train with no stop in sight, I realized my mistake. I wasn't thinking, and instead of going south one stop, I was headed up the west side. Ok, no big deal I thought. I'm sure it will stop at 96th or 72nd. I opened up Google Maps (but had no service) and realized my blue dot was not stopping at 72nd, or 96th.
I was going direct to 125th street. Cue the palpitations. The light headedness. The nausea. No - I will not let this happen here. Deep meditative breathing as the clock nears 7:35pm and I know my 7:40 is out of sight but there's still a shot at the 8:00, the last bus of the night.
Until the train stops dead in its tracks due to train traffic and any chance of getting on that bus is gone. Too bad the heart monitor wasn't working because this would be an excellent time to record my symptoms
I went to Penn to get a train instead where my mom picked me up (30 mins from home) and I went straight to bed. I'd wake up and my bad luck would be reset, I'd get my heart monitor, and everything would be fine. Tae texted me in the morning, better commuting luck today? ONE WOULD THINK!
As I stepped up to my usual bus, the driver looked at me and told me there were no more seats (and they don't allow standing).
So is another bus coming? i asked in all seriousness.
He almost laughed at me. No, another bus wasn't coming. I'd have to figure out another way into the city. So a $55 uber ride later I took a train. Later that afternoon I got my heart monitor (seriously it's like ground hog day). I had to laugh because at this point, it's just too comical.
And later that evening I went to Barrys, monitor and all. My Barrys buddy and colleague Lindsay snapped some shots of me doing my best Clueless impression of the Cher, Dionne and Amber with their cell phone holders and pagers on the tennis courts. Despite the odd looks in class, and my having to wear a shirt (I get really hot in class and can't deal with unnecessary layers so usually i train with a sports bra/shorts), i was able to fit the monitor into the waist band of my pants (JoyLab for Target FTW!).
Today as I write this I am en route to what is hopefully the last round of tests: an echocardiogram (a test using sound waves to create images of your hearts valves, chambers, veins and blood vessels) and a stress test (where they monitor your heart during extremely strenuous cardio).

I am going to try to share as much as I can during this process on my Instagram. And of course I'll share back here, too.
For special effect, I wore my Boston Marathon tee today. Putting out the most positive vibes for Shalane Flanagan as she attempts to take her native race!