girls gone (into the) wild
My bachelorette party weekend recap: a 72 hour GIRLS TRIP guide to shacking up in an energy vortex, hiking Devil's Bridge, crystal hunting, bar-hopping and singing Backstreet Boys in a dive bar with a bunch of locals, townies and a dear friend (who's about to be very famous), Sedona Tom. Here, Part 1 of 3.
we flew into phoenix. you can also fly into flagstaff but there are fewer options especially from the east coast, and they are more expensive. our rental car was from Silver Car a strictly Audi rental car program (and awesome BTW. They pick you up from/ drop you off to the airport, you get your pick of very clean audis, and the service is amazing).
First stop, In N Out !! Because #westcoastmusts amiright? Since I'm among the few freaks who actually prefer a burger without a bun, I ordered mine "mustard, protein, extra crispy" style off the special/secret menu (lettuce wrap, and mustard-grilled patty, and extra cooked fries).
After ooh-ing and aah-ing our way throughout Arizon for our almost 2 hour trek to Sedona from phoenix, we arrived at our rental home (c/o Foothills Property Management). it was very tempting not to get out on the highway to take pictures in the fields (but more on that in a later post…).
know before you go: whatever you decide in terms of lodging, book it fast. there aren't a lot of options in sedona, it's a surprisingly small town, the nice homes go fast and the hotel rooms / suites that are best for groups are limited. we were debating between a hotel (kimpton amara and the enchantment were our two top picks) but ultimately decided to go with a house. can you blame us? this was the view from our front door: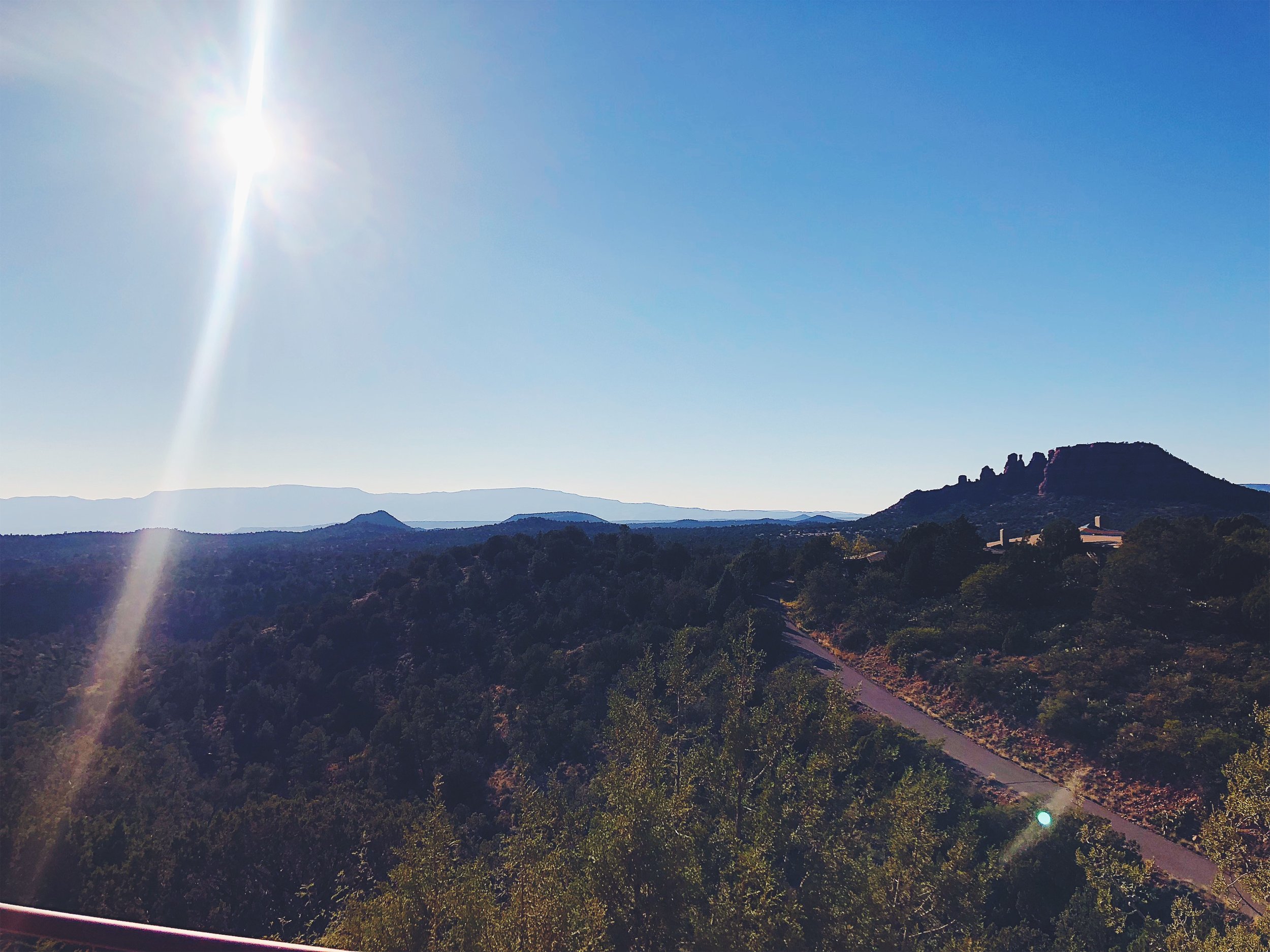 after unloading, exploring the (humongous dream) house, a few of us Ran to the grocery store to pick up bachelorette party essentials (aka smoothie ingredients, avocados, eggs, & coffee hello whose blog are you reading anyway?) and Of course i arrived home to a fully decorated living room for my "final fiesta" theme. we proceeded to do what every normal bachelorette party does and pour shots.
shots of chlorella smoothies. yes, you got that right. i am holding a nutribullett blended green smoothie as my #bridetribe performs the coronation for the weekend.
and with that, i'll just pause on the festivities for a second to squash any notion that a bach party needs to be 100% debauchery, "last chance" drunken kind of Vegas slutty mess. what i wanted it to be was a pre-wedding weekend of relaxation a green juice in the morning champagne in the evening kind of weekend, filled with lots of outdoor time, sunshine, and time with the girls who make me laugh, cry, and try to be a better person every day, peppered throughout with some dive bars, good food, and the periodic tequila shot. roll your eyes, call me a prude. this was the self-care I needed - it was a week after the NYC marathon, and a week before my wedding. i didn't want to think, plan, or do anything that would f*ck up my skin (especially not binge drinking followed by bad food choices).
after a photo sesh and some laughs, it was time for our first adventure of the evening, stargazing in the Verde Valley. Sedona is one of 20 dark sky communities in the entire world. The amount of stars (and shooting stars) was INSANE. If you want to learn about stars, constellations, etc., this is very cool. And if you like edible treats, I hear this is a real trip (unfortunately I can't attest to this personally). Here's an entire link, but we did ours out in Verde Valley with Sedona Stargazing. It was a bit of a drive, maybe 25 mins or so from the house,, but worth it.
KNOW BEFORE YOU GO//FULL Caveat: we did actually leave early. TO BE HONEST we were cold AND TIRED, AND it was VERY DRAWN OUT, and we could only keep getting up and down to stare into our friend Paul's telescope looking for Mars or Cassiopeia so many times. NONE OF US THOUGHT THE OTHER WOULD WANT TO LEAVE, SO OF COURSE WE SAT THERE LONGER THAN WE NEEDED TO UNTIL WE ALL FROZE DOWN O OUR TOES, politely apologized to OUR LEADER, Paul, AND found our way out of the field (it was a little Blair Witch, not gonna lie), and drove off to dinner.
We were all really exhausted by the time dinner came around so I wish I could write more passionately about this. The restaurant, Mariposa, was huge, artistic, and truly great. The food was good, lots of shareable options and great service. Tapas style, and very scenic. I'm told you should go during sunset or daytime as the views are insane. I'm sure it's a good brunch spot.
We got home, found a HUMONGOUS spider in my room which we all freaked out over and debated sleeping in the same room because of, but were also SO tired that after careful inspection of every crevice, we finally crashed hard and fast.
KNOW BEFORE YOU GO: don't leave windows open. I kid you not, our home guide warned us of "snakes, spiders, crawly things.
THAT WAS A WRAP ON DAY 1, THE FIRST TIME FOR ALL OF US IN SEDONA. we woke up nice and early to a scene that literally made my brain explode. I was screaming TO EVERYONE TO "COME LOOK AT THIS! OMG!" NATURALLY everyone thought there was a bug in the room.
BUT REALLY IT WAS THIS:
that's a wrap on Day 1! day 2 will be filled with hiking, outdoor activities, fan girling, and which dive bar is the best for people watching.
Until then, here's your abridged itinerary on Day 1:
Leave east coast early morning, arrive into Phoenix in the afternoon to take full advantage of the day

rental car from silvercar, pick up in-n-out, drive 2-ish hours north to Sedona (via route 17) and don't try to spy on your fiance's bach party in Scottsdale

food shopping at safeway in this shopping center (there is also a starbucks) located in West sedona

dinner at mariposa

call it a night (but don't forget to double check all windows, walls and corners for spiders)